Dogs On Tour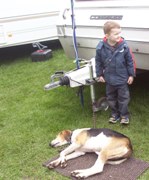 | Taking Your Dog Abroad

Camping & Caravanning with your dog can be a fantastic experience for both owner and dog
Here is some advice & a few useful links that could help

Vaccinations
It is of absolute importance that your dog's vaccinations be up-to-date, as dogs can encounter unvaccinated animals while camping.

Keep your dog on the lead
No matter how well-behaved you think your dog is it is dangerous to other campers not to have your dog under your control at all times. Your friendly, unleashed dog could wander into a camping area where there is a dog-aggressive dog and the results can be disastrous

Dog identification tags
Always make sure your dogs have tags on there collars, if they do wander off they are in unfamiliar territory and might not find there way back !!!

Dog Leads
Be certain before setting out that you have a lead & collar in good condition and will not break if the dog suddenly lunges.

Bedding
Bring bedding (a blanket, an air mattress, etc.) to keep your dog off the ground. This will go a long way in keeping them warm, dry, and clean. Put plastic underneath cloth beds that are laid directly on the ground

Water
Clean drinking water is a must for your dog

Towels
Bring an extra towel or two just for the dog(s). You won't regret it.

Heat Exhaustion

Heat stroke is a life threatening condition for your dog (hey, and for you too) and you should be able to recognize the warning signs and know how to prevent it. Even on a cool day, if it is very sunny, and your dog is working hard or is a dark-coated breed, they can get overheated. Remember: dogs have a body temperature that is higher than yours! Dogs get hot very quickly, long before you will. Heat stroke is as big a threat to a dog while camping as disease

Scoop It Up
Always pick up after your dog in a campsite -- dog waste is not the same as other animal waste. It is bad for the environment, particularly near water sources, and most bothersome to other campers. Again, you are contributing to people's bad feelings about dogs, and contributing to more campsites being closed to dog owners, by not scooping.

Here Are Some Useful Links For Pet Owners
| | |
| --- | --- |
| A Very Friendly Site For Dog Owners | |
| A Site Full Of Information | |
| Dog Friendly Accomadation | |
| One Stop Information | |
| Dog Friendly Pubs | |
| Dog Friendly Beaches In Cornwall | |
| Dog Friendly Beaches In Dorset | |
| Dog Friendly Beaches In Devon | |
| Dog Friendly Pembrokeshire | |
| Dog Friendly Beaches In South Wales | |
Pet Passport
The Pets Travel Scheme
This allows you to take your cat or dog to most countries in Western Europe and return to the United Kingdom without putting the animal into quarantine.
However, to qualify for exemption from quarantine, you must meet certain strict conditions relating to your pet's health status.

When Traveling Abroad
When you have selected your destination it is advisable to visit the government website:
http://www.defra.gov.uk/ to check the following
Is the country you plan to visit accepted into the scheme
Are there any additional requirements for this country
Which routes of travel are authorised

Before you Travel
To qualify for the PETS scheme, cats and dogs must meet the following before they leave the UK:
They must be implanted with microchip identification which meets the ISO specification.
They must be vaccinated against rabies and given booster vaccinations as required. They must be at least 3 months old, and already implanted with a microchip before the first vaccination.
At least 30 days after the initial course of rabies injections is completed, they must be blood-tested to show that vaccination was successful, if they fail, they must be vaccinated and tested again.
Once your pet has been successfully blood tested, it will be able to re-enter the UK no less than 6 months after the date the blood sample was taken.
Following successful vaccination, they must have a health certificate signed by a veterinary surgeon holding LVI status, indicating that the above conditions have been met.

Before You Return...
To guard against the introduction into the UK of certain potentially dangerous parasites Fox tapeworm and certain Ticks you must also have your pet treated against them 24-48 hours before re-entering the UK.
You must also have a certificate signed by an approved vet in the country where the treatment was administered to confirm that these treatments have been given.
Note: Only Praziquantel is approved to control the Fox tapeworm.
It's a good idea to make sure you can meet all the requirements of the Pets Travel Scheme well in advance of your planned travel date.
Remember: If you do not have all the required paperwork, your pet may well be refused entry into the UK, or obliged to spend 6 months in quarantine.

Checklist:
If any additional certification is required, e.g. Export Health Certificate, make sure you have collected this from your vet.
It is recommended that your vet scans your pet to check for the position of the microchip before you travel.
It would be sensible to locate a vet at the port from which you will be returning to the UK, who is able to supply the necessary parasitic treatment.
Remember to take with you all relevant documentation, which includes: Pets Certificate, Vaccination Certificate and Health Certificate.
---
The following information was submitted by Stu at " Le Chant d'Oiseau " who can be found HERE
Pets Abroad Info

Visit the DEFRA website at http://www.defra.gov.uk/animalh/quarantine/index.htm for up-to-date info about the Pet Travel Scheme.

Have a look at http://www.day-tripper.net/infopetsabroad.html for more useful tips and info, including special offers on Ferries etc. Also costs involved for petcare products overseas. Very useful site.

See http://www.ledogstop.com/pages/travel_scheme_vets.html for more useful info.

http://www.dogsaway.co.uk/main/vets.htm also has good info, and a useful 'step-by-step' guide to obtaining your pet passport. They can arrange a vet on your behalf, but will charge for it at £27 per appointment, and £15 per subsequent visit. Expensive when you consider that quite alot of the French vets speak very good English, making it easier for those with little or no French to deal with them.

http://www.petplanet.co.uk/travel_int_vets.asp has a section with details of vets in Germany & Italy. Useful site.

Ok, here's the numbers...

Vets in Calais

Full list and telephone numbers of Vets in Nord-Pas de Calais, call (00 33) 3 27 96 84 38.

Clinique Vétérinaire du Parc Saint Pierre des Drs Fermé J. M. - 73, rue Aristide Briand (near the Town hall) Tel: 0033 321 34 93 88. Fax: 0033 321 97 16 56. Open: Monday to Friday 9.00am to 7.00pm, Saturday 9.00am to 4.00pm. We notice that consultations are about 100 euro if booked in advance and 200 euro if not. (Seems VERY expensive, but possibly the closest to the port!).

Centre Vétérinaire Curie - 139, Bd. Curie, 62100. Calais. Tel: 0033 321 82 15 11.

Clinique Vétérinaire du Docteur Nowosad - 138, Bd. La Fayette, 62100. Calais. Tel: 0033 321 36 67 96. Fax: 0033 321 36 05 63.

Clinique Vétérinaire des Salines (Dr. DELVAL Valérie) - 11, Place Crevecoeur, 62100. Calais. Tel: 0033 321 00 71 00. Fax: 0033 321 00 71 09.

For Vets in other parts of Northern France....

Brittany
Centre Vétérinaire, 12 place Rioust des villes Audrains, 22550 Matignon. Brittany
Tel: 0033 2 96 41 22 05. Matignon is situated approximately 15kms west of Dinan which is about 35 minutes drive west of the port of St Malo.

Centre Veterinaire Briocelande, 58 Miroir Aux faes, 35400 St. Malo. Tel: 0033 299 81 94 51.
St. Malo is one of the nominated ports for the Pet Travel Scheme and this vet is situated only five minutes drive from the port.

Michel Garancher, 154Bd.de Verdon. 35000 Rennes. Tel: 0033 299 54 46 48.

M Lamer of Le Goff Lamer Vets, 4 rue Jacques Rodallac, 56110. Gourin. Tel: 0033 297 23 56 12. (Visitor comment - "I found a vet in central Brittany who knows about the scheme, has a scanner which read my dog (eventually) and had the right certificates. Very helpful and even speaks English. He charged 42 Euros for the treatments and the certificate.")

Normandy
Clinique Veterinaire, 18 place Poulet-Malassis, 61000. Alencon. Tel: 00033 233 26 29 51.
Clinique Veterinaire, Le Haut Gelé, ZA 50310. Monebourg. Tel: 0033 233 21 11 14.
Dr Fabienne Ringot, Cabinet Veterianire St Marc. 7 Rue Alsace-Lorraine. 76000. Rouen. Tel: 0033 235 981 745.
Docteur Borel, Cherbourg. Tel: 0033 231 97 41 41
Drs Dalagoutte et Roger, Cherbourg. Tel: 0033 231 96 55 82

Then the rest of France.....

Town
Vet
Telephone Number

Chatillon-sur-Chalaronne
Dr. Lenoir
00 33 474 55 0057

St. Genis-Pouilly
Dr. Radiguet
00 33 450 42 1234

Villefranche sur Mer
Dr. El-baz
00 33 493 01 7422

Bergerac
Dr. Carrad
00 33 553 74 4390

Louviers
Dr. Larson
00 33 232 40 0334

Uzes
Dr. Jacquemart
00 33 466 22 1065

Villefrabche de Lauragais
Dr. Jubenot
00 33 561 81 6401

Montpellier
Dr. Leplat
00 33 467 27 3732

Reze
Dr. Nouhin
00 33 240 32 3854

Prayssac
Dr. Untz
00 33 565 22 4646

Monebourg
Dr. Bastin
00 33 233 21 1114

Corbigny
Dr. Vignault
00 33 386 20 0163

Hellemmes
Dr. Nowak
00 33 320 56 7419

Calais
Dr. Alcouffe
00 33 321 82 1511

Randon
Dr. Hodencq
00 33 470 41 5142

Pau
Dr. Barande
00 33 559 30 1156

Selestat
Dr. Guth
00 33 388 82 8687

Kientzheim
Dr. Ortet
00 33 389 78 2379

Paris
Dr. Gittins
00 33 140 59 0476

Neuchatel-en-Braye
Dr. Savalle
00 33 232 97 0147

St. Aubin sur Scie
Dr. Lamaiziere
00 33 235 84 2735

Ouville la Riviere
Dr. Zachee
00 33 235 83 0210

St. Germain en Laye
Dr. Lazard
00 33 134 51 3133

L'isle sur la Sorgue
Dr. Silovy
00 33 490 38 1188

Mandelieu la Napoule
Dr. Begue et Combe
00 33 493 49 2849

Mandelieu la Napoule
Dr. Faure et Pepin
00 33 493 49 3619

Mandelieu la Napoule
Dr. Texier
00 33 493 49 7850


Remember that your pet MUST be seen by a vet no less that 24 hours prior to departure and no more than 48 hours prior to departure from France. Most vets that we've encountered are very pragmatic in their approach to stamping your pet's passports. So don't stress about getting exact times for your stamp!

Most campsite owners will know of a local vet who can stamp your passport, just ask them. When travelling around your chosen holiday area, keep a lookout for a Green Cross with the words 'Cabinet Veterinaire' outside the surgery.

Our vet in the local village also speaks excellent English, as do the ones in nearby Longué, and also in Saumur.

If you're on holiday here in the Saumur area, then the vet there is situated next door to the Sésame store, on the Route du Mans, heading north to Le Mans from the town centre, just before the roundabout to turn left for the Intermarché!
__________________
Kind Regards,

Stu.