Equipment Reviews
As Submitted By Our Members
---
Review Off The Campingaz Party Grill
Price around £30 with a pouch or around £25 without.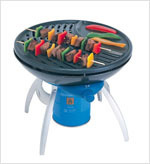 Well, not so much a review, but more my humble opinion.

A very compact portable grill which doubles as a camping stove. It runs from Campingaz Easy Clic resealable Cartridges CV270 around £3 or CV470 around £5. It has a piezo ignitor, a non-stick cooking surface and a fat collection bowl which you fill with water when grilling. This bowl also provides effective wind shield for the burner whether using as a stove or a grill.

Where the Party Grill differs from many other gas grills of this type is that the 30cm diameter cooking surface has a smooth area for eggs or vegetables on the same side as the griddle for bacon or other meats, and a unique feature of this griddle is that it is an open griddle, enabling meat fat to drip through producing some smoke which gives the food a slight barbeque flavour. The best steak I have ever tasted was cooked on the Party Grill.

I have used my Party Grill so much that the non-stick surface is coming away, the water bowl is rusty and the Piezo igniter no longer works so I have to light it with a match. Having looked around the market for a replacement for the Party Grill, I have realised there is no comparison for me, even among the other Campingaz Party Grill range, so I may be replacing it with another the same when necessary if I still cannot find a comparable alternative.

It can be bought with or without a pouch which will carry all parts including one large gas cartridge.
Submitted by missElaineous
---
Review Off The Cobb BBQ



This is the most versatile BBQ that I have come across. You can grill, roast, bake, smoke and simmer a variety of different foods on this amazing little grill. The design of the Cobb originated with safety in mind, a cooking system for people in rural Africa.

The Cobb has a polymer plastic base as a heat shield and air pockets that help it keep cool to the touch. It is fuel efficient, using only 8 heat beads for 3 hours of cooking. The unique construction prevents accidental burns while the Cobb cooks food up to 600 degrees inside, the outside stays cool and can be picked up and carried indoors, which is a great safety feature for campers.

It is much easier to clean than the more traditional bbq, and it takes up little space when camping and packs neatly away in the carrying bag.
It weighs 5.5 lbs, is 12 inches high and 12 inches in diameter. 8-10 beads will cook almost anything.

I have used my Cobb safely in the house and in the awning whilst camping. Use it camping, on the beach, for picnics or anywhere else you can think off. You can cook many things on the Cobb from bbq food, bake pizza's and bread, make a full roast dinner, curries and much more.

I have used mine mainly for bbq's and roast dinners and have roasted duck, chicken and pork complete with crackling with great success. I will be trying beef with red wine gravy at the weekend. The vegetables can be wrapped in foil and placed around the meat on the grill or dropped into the moat. Water, wine or beer can be added to the moat to help keep your food moist and then using it to make a delicious sauce or gravy.

When you have finished cooking your main meal pop a few bananas on the grill for your dessert or warm up an apple pie. Rice can also be cooked in the moat whilst cooking your curry on top, I haven't tried this so do not know how successful it is.

The set up that I have, Cobb, carry bag, recipe book, and roast rack costs around £100, but I got the bargain of the year and only paid £4.50
Submitted by Redc
---
Review Off The Combicool 3-way absorption coolbox
If you like you beer frosty ( is there any other way to have beer ?? ) Then the Combicool is for you !



Make no mistake this is no ordinary coolbox ,it can chill to 30 degrees below ambient temperature ,and can even make ice cubes !! in the small cube trays provided that sit on the cooling element at the back of the coolbox.

We originally bought our Combicool for longer trips ,when freezing and refreezing ice packs seemed too much of a bore and we didnt want to waste our holiday shopping for fresh supplies every day .but now we have it ,we find we always want to take it ,even for a weekend ! Its not a small object to transport however,the dimensions of the combicool are 498(w) x 445(h) x 460(d) and weight 16.3kg and its internal capacity is 40L ,so bear this in mind !although you can pack other items inside the Combicool en route to save some space!
We found that the Piezo ignition system was pretty much useless and have taken to lighting with matches ,but otherwise we have had no problems with our Combicool atall!
The Combicool is not fussy what power it uses :EHU ,Gas ,12v !If you are going to run the cooler on gas you will need a gas bottle ,regulator and hose ( not provided ) or EHU lead (not provided )if you wish to run on electric ,the unit already has a cable and plug for use with a 12 cigarette lighter socket.
We would recommend the Combicool to absoloutly everyone provided you have the space to transport it !

Submited by Skatty
---
Review of Coleman Blackcat ,portable gas heater
We have been using this heater for a few years now in several different tents ,and find that it provides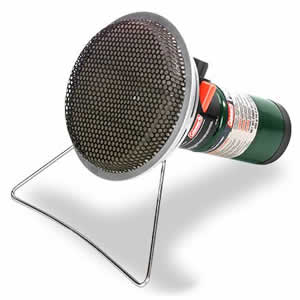 ample warmth even in the largest of tents.The heater does not however provide instant heat ,it can take half an hour to warm the air in the tent.
We have found the heater is great for chilly nights during the summer season ,but if camping in the colder months an EHU and heater would probably be more suitable.The coleman cartidges are a butane/propane mix so work at lower temperatures than butane alone and they last aprox 5hours on full power .Although the blackcat does not burn with a flame ( after initial ignition ,best done outside the tent,as it can flare whilst lighting ) and gives off minimal carbon monoxide gas ,it is still advisable ( as with any gas appliance ) not to use whilst sleeping .
We would recommend this heater to anyone who wishes to camping throught the warmer months but find some evenings cold and uncomfortable ,and to anyone wanting small portable heating without being restricted to EHU .

Submitted by Skatty
---
Review of Outwell Indiana 6
This is a large 6 berth tent measuring 5.3m x 4m x 2m (6.8m long with sun canopy attached) which is packed into two bags, one for the flysheet and bedroom pods, the second for the poles. The tent has two good sized sleeping pods and a spacious livin

g area and has four generous windows which let's in ample light. The sleeping pods and the side door have a zipped mesh screen which allows for good ventilation of the tent but keeps all the flying insects out on warm nights. There are six ventilation ports, two on each side and two at the rear of the tent which can be either opened or closed depending upon the weather conditions. There are plenty of pockets for storing items along the sides of the tent and also hanging between the bedroom pods. A night light hanging loop is located on the ceiling in the middle of the living area and a series of velcro cable ties are fitted to keep any electric light cabling neat and tidy.

The bedroom pods are spacious enough to sleep 3 adults each but are far more comfortable with two. The pods can be unzipped from each other and one pod rolled away to increase the living area. There are three storage pockets in each pod. When packing the tent way, the bedroom pods can either be removed and packed separately or left in place and packed along with the fly sheet.

I do like the ground sheet for the living area, which can be attached to the inner walls of the tent to reduce drafts or left down to increase the ventilation. I suppose it's the best middle ground between a SIG or non SIG you can decide which.

When erected, the tent is very stable due to what Outwell call their 'Power Stability System', and I'm pleased to say it does seem to work. During two stormy nights the tent behaved itself and there was very little movement during the high winds and rain. There are plenty of bright yellow guy ropes to ensure the tent is well anchored to the ground


I feel the sun canopy gives the tent a nice shape and was also useful on those hot days in July and it can be unzipped and put away in bad weather The hydrostatic head of 5000 mm ensures that in all but the worst tropical storms you and your belonging should stay dry.

I am very pleased with this tent and it fulfils everything I need as a family tent, the only downside is that I do struggle to put it up on my own due to the weight. In calm days it behaves and I can put this up on my own but if there is any breeze I find I do require help...it's not a one person operation.
Submitted by Patch666
---